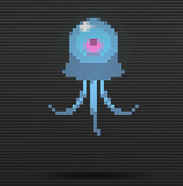 It has a chance to spawn in a random unpowered room at the beginning of a turn. Kill it before it vanishes at the end of the timer and you'll be rewarded with a Dust loot ( +3 Dust )
It does not deal damage.
A visual alarm goes off in the room it spawned, it also stays in that room until it is killed or it vanishes.
Added by the "Organic Matters" update.
Part of the the Vultus monster Type. Along side the Debuffer and Trash.
Ad blocker interference detected!
Wikia is a free-to-use site that makes money from advertising. We have a modified experience for viewers using ad blockers

Wikia is not accessible if you've made further modifications. Remove the custom ad blocker rule(s) and the page will load as expected.